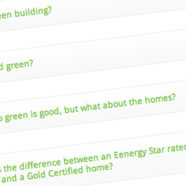 Review our Green Building FAQs to educate yourself on our products and why you should GO GREEN
What is green building?
To put it simply green building has two main goals: one, to increase the efficiency of the home and two, to protect human health and the environment. The ways we go about accomplishing these are numerous and range from how we pour our homes foundation to what ceiling fans we place in the home. Visit our checklist to find out more specifics or watch our construction video to find out more.
Why build green?
First, because it's good. And not just good for our planet, but good for our health, our pocketbooks, and our kids future. By building sustainably we are positively contributing to what is going to be handed down to future generations rather than taking away from their starting point. Being green means that you don't cut corners, you don't do the minimum, heck, or even near the average. For us, it means passionately attending to every detail of building your home. This means that we consider everything from the concrete to the framing to the paint. Oh, and did we mention it's good for the planet?
Okay, so green is good, but what about the homes?
Our passion for building homes doesn't stop at being green. We want every home to be unique…to be yours. Once you decide on a floorplan we ask you to come out every week and talk to Paul about the stages of your home. We want you involved in the process. You pick colors, flooring, cabinetry and design features from our center. You are given information about all of the construction processes that go into each stage of your home. Each floorplan has special features that make each one interesting. Some have nicho's, others in-set shelving in the pantry, others accent wood ceilings (one even has a Harry Potter room- but you'll have to come out to see that).
What's the difference between an Energy Star rated home and a Gold Certified home?
Energy Star certificates only address the efficiency of the house in terms on energy. A Gold certified house has over 100 additional features that go into making your home green. We follow the LEEDs guidlines for building, and each home is verified by a third party engineer that gives the homeowner a certificate outlining the homes performance. These are called HERS ratings. An energy star house has a HERS rating of about 85. Ours average 50. Our homes operating capacity is at least 40% more efficient than an energy star home. Additionally, energy star doesn't address water at all. For us here in the desert, that's a big priority. Our homes have insulated water pipes, tankless water heaters standard, and dual flush low flow air pressurized toilets. Total operational cost on average for one of our homes is $1100 PER YEAR. That includes electric, refrigerated air, heating, sewage, and water. On top of this, to be a Gold Certified Green Home you also have to take into account air quaility, recycling of construction materials, and how the building effects the land. Don't get us wrong, we are energy start partners, all our appliances are energy star, but that's where we start, not where we end.
*LEED's is traditionally used more for commercial ratings. The most stringent building guidelines for green residential building and certification is that of the National Green Building Standard which is verified by the NAHB Research Center. Additionally we certify each house under the Green Build NM program. For more information on these visit our Resources page for links to their websites.
Why do Paul Allen Homes have so many extra features standard?
Because we are not passionate about designing cookie cutter houses. We are passionate about creating homes. Our vision means that we think about the entire community layout, about the natural land features, about variation. We don't want you to feel like your walking into a development, we want you to feel the community. This process keeps us inspired and always evolving. Something that is essential in today's world.
Green building means more costs. How are these homes so affordable?
Sustainable building should be accessible to everyone. We really believe that. As operating costs increase, efficiency becomes a bigger priority. When we decided to start building green we started learning about every way that we could improve our homes. We developed plans and then went back and developed them again. We thought a lot about balance, then went back and tuned them. Balance between efficiency and design. Between affordability and options. And it seems we have struck a chord.
What's the building process like?
Our homes take 4 ½ months to build from the time you sign contracts. No faster, no slower. For some people this isn't an option, and we understand that. But to be able to create your home from scratch is an amazing process. You get to witness the first frames going up, the foundation being laid, the electrical going in. You watch your home being built for you. We like people to come out once a week, or at least a couple times a month, so they can see the process. We love transparency, and we think you will too. We are confident in our homes and we think you will be even more glowing when you get to see everything from start to finish.