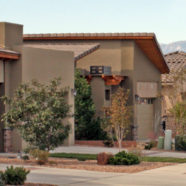 Keeping it LOCAL. Being a small local builder means you don't have to answer to corporate headquarters, or entice people with sales pitches, or limit what your willing to do for people. Come see – come feel- why our houses are so extraordinary. Building now in Saltillo on the westside.
At Paul Allen Green Built homes we're not solely about development, we're about creating communities. It's the small differences you'll notice as you stroll through our neighborhoods. How every home is unique, each one a bit different from the next. You'll see that we've totally thrown out the idea that new houses have to all look the same. How we've infused our homes with older house charm while adhering to the toughest new building standards. We've taken our time – with our houses, with the land, with our homeowners. And we think you'll be able to immediately feel the difference.
Saltillo
Located in Albuquerque's thriving westside, Saltillo is within one of the fastest growing areas in Albuquerque. The neighborhood is full of shops, restaurants, and industry, but also has beautiful areas of nearby open space. CNM recently opened a branch campus right down the street from us, and the largest hospital in the state is just around the corner! Saltillo is one of the safest communities in Albuquerque. And we are already sold out of Phase 1! Our model center is huge: boasting 6 models to tour. Come out and meet Paul and learn more about green homes in Albuquerque. New homes from $169,900 to $280,000.
Single family homes, one and two stories
Offered in contemporary and southwest styles
1270-2758 square feet
Price: mid $100s to high $200s